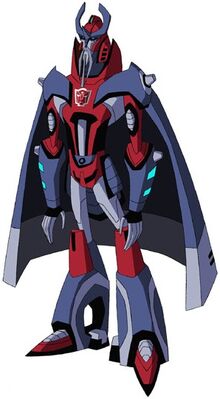 Alpha Trion (アルファ・トライオン, Arufa Toraion) fought in countless Cybertronian battles, billions of stellar cycles before the Decepticon movement had even been conceived. He is, perhaps, the oldest Transformer anybody knows. These days, however, Alpha Trion is just a civilian, serving as the head of the Cybertron Council for the Guilds Domesticus. In this role he presents a constant challenge to Sentinel Prime, reminding the arrogant Elite Guardsman that the Guild is in charge of the military, and not the other way around. Sentinel disagrees with the ancient bot, feeling that he's simply been out of combat for too long to be relevant.
Appearance & Biography
Edit
Voice actor: Phil LaMarr (English), Kenta Miyake (Japanese)
Attributes:
Personality
Edit
Relationships
Edit
Friends and Allies
Edit
Weapons and Abilites
Edit
Alpha Trion was present at the council meeting where Ultra Magnus announced that the likely coordinated attacks on space bridges by the Decepticons were the work of a spy in their midst. He gave Longarm Prime an odd look when the security director rather abruptly demanded that all communications from Team Prime on Earth be filtered through him, "no exceptions".
Appearances
Edit
Notes & Trivia
Edit