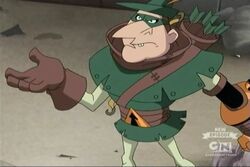 Aaron A. Archer (アーロン・A.・アーチャー, Āron A. Āchā), who is also to be known as the Angry Archer (アングリー・アーチャー, Angurī Āchā)), is the curious countenance of yon emerald-clad highwayman and a villain of greatest renown! Armed with naught but his wits, his trusty bow, and a profusion of wizardly-empowered arrowheads, the Angry Archer is the very scourge of Jump City town!
Appearance & Biography
Edit
Voice actor: Jeff Glen Bennett (English), Katsuyuki Konishi (Japanese)
Personality
Edit
Relationships
Edit
Friends and Allies
Edit
Powers and Abilities
Edit
Angry Archer is above-average in terms of his agility and is an excellent marksman. He also carries a quiver full of gadget arrows which include explosive arrows, punching arrows (complete with articulated hands), and grappling line arrows.
Appearances
Edit
Notes & Trivia
Edit