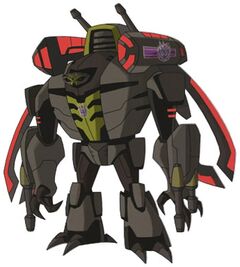 Blackout (ブラックアウト, Burakkuauto) is a monstrous brute of titanic proportions, larger than any other Decepticon. Few have survived an encounter with this hulking behemoth and lived to tell the tale, but those who have survived have added his story to Decepticon lore, which tells of him single-handedly obliterating vast numbers of Omega Sentinels, before finally falling himself at the end of the Outbreak's War.
His feet are equipped with seismic energy dischargers, reverse-engineered from an oddly-misplaced Cybertronian named Crasher, which allow him to force nearby electronics to shut down with a single stomp.
And we're not kidding, he can destroy Omega Sentinels well. Real well.
Appearance & Biography
Edit
Voice actor: Bumper Robinson (English), Kenta Miyake (Japanese)
He has the veichle mode of a Cybertronian space craft.
Attributes:
Personality
Edit
Relationships
Edit
Friends/Allies
Edit
Weapons & Abilites
Edit
In addition to his sheer size and firepower, Blackout's stomp generates an EMP. One stomp disables equipment such as Spacebridges. A second stomp cancels the effect.
Later in the war, on Velocitron, he destroyed Delta Supreme, who had been rebuilt into an artillery platform. During the climax of the war in the Battle for Iacon, Blackout destroyed Beta Supreme and Eta Supreme. Beta Supreme managed to inflict catastrophic injuries on Blackout, however, and he took hundreds of cycles to repair.
Blackout, along with the other members of Team Chaar, assaulted a space bridge in an attempt to capture it and conquer Cybertron. During the battle, he descended from above, sending Rodimus Prime flying and disabling the Space Bridge with a massive shock wave. After being berated by Strika for his mistake, he apologized and reactivated the Space Bridge with another shock wave. Later, he retreated from the looming battle against the Cybertron Elite Guard under the orders of Megatron and Strika.
Appearances
Edit
Notes & Trivia
Edit