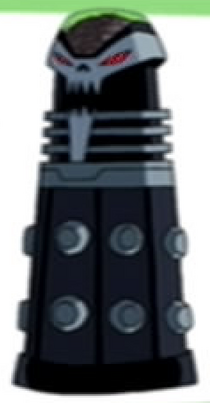 Appearance & Biography
Edit
Voice actor: Glenn Shadix (English), Kunihiro Kawamoto (Japanese)
Personality
Edit
Relationships
Edit
Friends and Allies
Edit
Elite Guard
Ultra Magnus
Sentinel Prime
Jazz
Blurr
Jetfire
Jetstorm
Team Athenia
Rodimus Prime
Ironhide
Brawn
Hotshot
Red Alert
Dinobots
Grimlock
Snarl
Swoop
Powers and Abilities
Edit
The Brain has genius-level intellect with extensive analytic and calculative capabilities, and is a master in various fields of strategy and science. He also can remotely control various devices via a control unit built into his jar, which is directly connected to his brain.
For obvious reasons, the Brain is not capable of participating in physical combat. As a result of his defenselessness, he relies almost entirely on his subordinates (particularly Monsieur Mallah) to protect him and execute his plans, with himself providing strategic leadership and intelligence.
An obvious weakness is that since he cannot move, he cannot stop whoever is messing up his plans. As shown in Homecoming, Beast Boy was right next to him fiddling with the controls of the bomb, and while he was so close, the Brain couldn't stop him.
A long time ago the brain was a brilliant scientist and was even able to mutate a gorilla to be smarter and stronger then any human. But after a sabotage lab explosion he was reduced to only his brain. Brain then started to dominate the world and his creation Mallah helped him. Soon, it gathered Madame Rouge and General Immortus to form the Brotherhood of Evil.
Appearances
Edit
Notes & Trivia
Edit