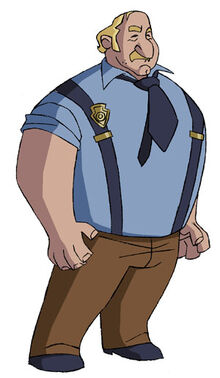 Captain Carmine Fanzone (カーマイン・ファンゾーン, Kāmain Fanzōne) is the apparent head of the Jump City police department. He hates machines, but in an "I'm old" sort of way rather than being evil or anything. However, despite his oft-repeated mantra of "This is why I hate machines/robots" whenever some device in his vicinity goes on the fritz (often with comedic, embarrassing results), he's pragmatic enough to make use of technology when needed. For example, he's a world champion at yelling at subordinates through megaphones for added effect. And firing heavy weaponry at rampaging robots.
Despite his endless battle with the march of progress and general poor luck, Fanzone is a good cop, dedicated to protecting the people of his city, even if he dislikes certain demographics. He's also not a bad guy to have in a brawl. He doesn't completely trust the Teen Titans or Autobots, but he's at least assured that they mean well and, like him, are here to protect and serve the people of Jump City. He just wishes that they'd stop destroying so much of the city in the process.
Along with machines, he also hates lawyers and kids, but most of all, he hates tech support for machines.
Appearance
Edit
Voice actor: Jeff Glen Bennett (English), Nobuo Tobita (Japanese)
Attributes:
Personality
Edit
Relationships
Edit
Friends/Allies
Edit
Weapons & Abilites
Edit
Appearances
Edit
Notes & Trivia
Edit