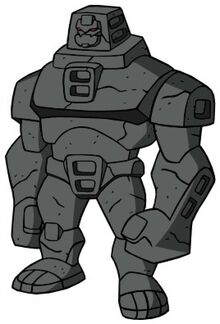 Cinderblock (シンダーブロック, Shindāborokku) is a villanous character and - mostly by circumstance - an enemy of the Teen Titans and Team Prime.
Appearance & Biography
Edit
Voice actor: Dee Bradley Baker (English), Kenichi Mochizuki (Japanese)
Attributes:
Personality
Edit
Cinderblock isn't an extremely complicated character. He is capable of some degree of sentient thought, will and memory, and has showed a susceptibility to Jericho's possession abilities. Though he is physically capable of articulated speech, he seems intellectually incapable of doing so. At the most basic level, Cinderblock is a petty thug, sent to do his master's bidding whenever extreme force is necessary.
Relationships
Edit
Friends/Allies
Edit
Powers & Abilites
Edit
Cinderblock is shown as a gigantic monster of living concrete who is of limited intelligence but considerable physical force. He possesses tremendous physical strength and endurance as well as extreme durability, granting him resilience to vast amounts of physical force and energy attacks. Again due to his body being made entirely out of concrete he poses either near or completely endless stamina as he was never shown to be exhausted.
On an interesting note, it always takes tremendous effort for the Teen Titans and Team Prime to subjugate Cinderblock, especially seen in the episode "Haunted". Although Robin defeats him single-handedly in "Apprentice",
Appearances
Edit
Notes & Trivia
Edit