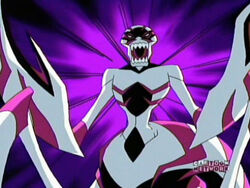 The Cironielian Chrysalis Eater is a member of a hostile alien species and a special enemy of Starfire.
Appearance & Biography
Edit
Voice actor: Catherine Cavadini (English), Not Known (Japanese)
Attributes:
Personality
Edit
Relationships
Edit
Friends and Allies
Edit
Powers and Abilities
Edit
Cironelian Chrysalis Eaters are superhumanly strong and fast. Since they have to go and actively seek their rare prey, Chrysalis Eaters have also evolved the ability to survive the harsh conditions in outer space.
Despite their name, Cironeilian Chrysalis Eaters devour prey besides Chrysalis, as the one encountered attempts to do so to Beast Boy and threatens to do so to the other Titans and Autobots, meaning that Chrysalis is more likely a delicacy for them, rather than a primary food source, due to the sheer rarity of such a meal. When hunting their desired prey, instead of approaching it in direct combat, they prefer stealth and deception to get close to their prey, then strike while it is helpless. This is aided considerably by their innate shape-changing ability, with which they can assume a more humanoid appearance, though they retain some physical insectoid traits.
Appearances
Edit
Notes & Trivia
Edit