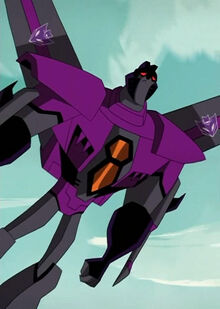 Clone #3370318 is one of the earliest clones the Decepticon Starscream created of himself. As a clone of Starscream, this clone embodies the cowardly side of the chicken-hearted forerunner of his fellow Seeker, Skywarp and his personality, making him all but useless in a fight.
Appearance
Edit
Voice actor: Sam Riegel (English), Jin Yamanoi (Japanese)
As a Seeker, he has no Cybertronian-based veichle mode, but he has an Earth-based veichle mode of a Harrier Jet (based on Starscream's jet mode.)
Attributes:
Personality
Edit
Relationships
Edit
Friends/Allies
Edit
Weapons & Abilites
Edit
Like the other Seekers, he possess incredible speed and firepower, enough to put even Megatron off balance. However, his incomplete personalities mean that they are generally less effective than Starscream (if even more entertaining to watch).
Appearances
Edit
Notes & Trivia
Edit