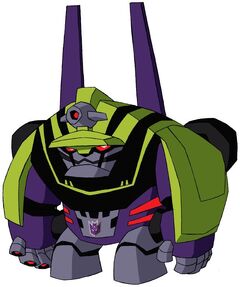 Dirt Boss (ダートボス, Dāto Bosu) is a little bot with big, big plans, He was created accidentally by the fusion of a forklift, a Headmaster unit and an AllSpark fragment. Sick of having been bossed around back when he was nothing more than a simple machine, he's decided that he's going to be giving the orders from now on!
His nasty attitude might be enough to accomplish this on its own, but he's capable of getting muscle for his jobs very quickly. He can fire a small remote control device from his forehead, tipped with a drill that allows it to bore its way into other machines—Transformers included—giving Dirt Boss direct control of their motor functions. And if he really has to get his servos dirty, his stumpy little legs are actually quite capable of delivering a brutal roundhouse. Now he's taken command of the other Constructicons and is going to make sure Jump City knows who's boss!
Appearance & Biography
Edit
Voice actor: John Mariano (English), Tetsuo Gotō (Japanese)
While he has no Cybertronian vehicle mode, he still as an Earth vehicle mode of a Forklift.
Attributes:
Personality
Edit
Relationships
Edit
Friends and Allies
Edit
Weapons and Abilites
Edit
Dirt Boss' main ability is his mind control probe. Like Hardshell in Generation 1 before him, Dirt Boss can embed his probe into the head of any Transformer and seize control of them. However, he can only control the movements of the robot, not their voices. Additionally, Dirt Boss only appears to have the one probe, so he cannot control more than one robot at a time - and he must recover his probe before he can take control of another Transformer.
Appearances
Edit
Notes & Trivia
Edit