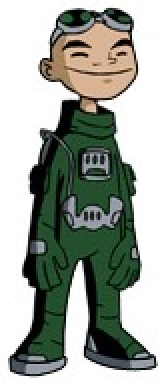 Mikron O' Jeneus (ミクロン・O・ジニアス, Mikuron O Jiniasu), also known as Gizmo (ギズモ, Kizumo) is a criminal expert of technology who has confronted the Teen Titans and Team Prime on a number of occasions. He is usually affiliated with the H.I.V.E..
Appearance & Biography
Edit
Voice actor: Lauren Tom (English), Tōko Aoyama (Japanese)
Gizmo is obviously very short for his age. He is bald, and his eyes have no pupils, but he wears green goggles frequently. His entire costume is a dark green one-piece with shoes built in. The opening in which is neck goes in is quite large, and he has a gray appliance in the middle of his chest. More often than not, Gizmo is seen with a harness resembling a backpack on his back, which is his main weapon.
Attributes:
Personality
Edit
Gizmo has a very nasty attitude to most things. He usually shows little to no respect to anyone, even his own teammates. It is very common for Gizmo to call other people names, such as "slug-faces", "crud-munchers", or "pie-for-brains". However, despite his lack of respect for his teammates, he does show some respect to his elders and those who intimidate him, like Brother Blood and Madame Rouge.
Relationships
Edit
Friends and Allies
Edit
Powers and Abilities
Edit
Gizmo is a technological genius able of creating ultratech devices. His knowledge of computers and incredible hacking skills make him a formidable foe for the Titans, despite his diminuitive size.
Gizmo's main gadget is a harness which serves mainly as an advanced locomotion device. It is capable of sprouting four spider-like legs for walking, helicopter rotors and jets for flight, and two blaster pods and a retractable rocket launcher for attacking. The harness may also mount other devices, such as a holographic projector or even a battlesuit, and - by means of a video game controller - can be used to control external technological devices as well.
Weaknesses
Edit
However, it doesn't seem that Gizmo has experience with hand-to-hand combat, so a glaring weakness for him is if his harness is ripped off, he is practically defeated.
Appearances
Edit
Notes & Trivia
Edit