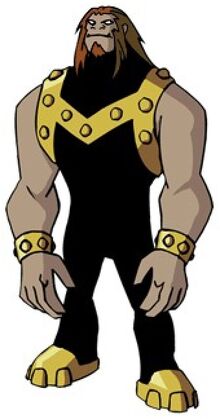 Baran Flinders (バラン・フリンダーズ, Baran Furindāsu), also known as Mammoth (マンモス, Manmosu), is a former student of the H.I.V.E. Academy, a supervillain, and an enemy of the Teen Titans and Team Prime.
Appearance & Biography
Edit
Voice actor: Kevin Richardson (English), Keikō Sakai (Japanese)
Mammoth is a huge-muscled villain. He has long, brown hair and a goatee, and his eyes are white with no pupils. His uniform consists of a sleeveless black unitard with a yellow pattern going across his costume, and the patterns have circles sticking out. He wears wristbands and shoes with the same pattern.
Attributes:
Personality
Edit
Relationships
Edit
Friends/Allies
Edit
Powers & Abilites
Edit
Mammoth is the power house of the H.I.V.E. and is many times stronger than the average human being. The exact range and limitations of Mammoth's strength level are unknown, though it appears to be on a scale equal to (or even surpassing) Cyborg or Bulkhead's. Complementary with his size and strength, Mammoth is extremely tough and can withstand great physical extremes without tiring. By punching the ground with his gigantic strength, Mammoth is able to conjure shockwaves which lead to devastating effects.
In addition, Mammoth possesses a perpetual appetite (also much like Cyborg) and can consume mass quantities of food (fresh or spoiled) with no ill effect.
Appearances
Edit
Notes & Trivia
Edit