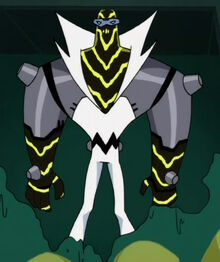 Prometheus Black (プロメテウス・ブラック, Purometeusu Burakku) is an entrepreneur and business rival of Isaac Sumdac. Whereas Sumdac Systems focuses on robotics, Black's company Biotech Unbound is devoted to (of course) biotechnology. His constant loss of business in favor of Sumdac's automatons has left Black bitter toward machines, especially the sentient kind. While attempting to develop a new corrosive that would melt Autobot armor, he fell victim to a laboratory accident caused by his own anger and frustration that transformed him into the supervillain Meltdown (メルトダウン, Merutodaun).
Driven quite frankly bonkers, Black was left able to secrete an acidic liquid that melts anything he touches, and which can be fired in jets from his palms. Unable to "turn off" his powers, Black constantly secretes acid, and must wear protective suits that allow him to walk about and manipulate objects without melting them.
He employs shrimp/giant and altogether biochemical freak Colossus Rhodes.
He also looks good in a pimp suit, which is the best superpower ever.
Appearance & Biography
Edit
Voice actor: Peter Stormare (English), Fumihiko Tachiki (Japanese)
Personality
Edit
Relationships
Edit
Friends and Allies
Edit
Powers and Abilities
Edit
As Prometheus Black, he possesses no special abilities, other than his smooth talking, business sense and genius level intelligence. As Meltdown, he possesses a corrosive touch that can melt through anything, even Autobot armor, as well as the ability to sling blasts of acidic fluid from his hands. He has to wear a special protective suit to control his acidic abilities though, a fact that can be used against him.
Appearances
Edit
Notes & Trivia
Edit