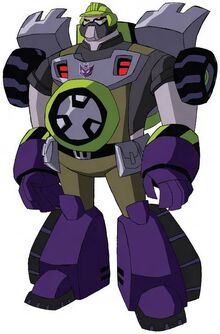 Mixmaster (ミックスマスター, Mikkusumasutā), or "Mix" (ミックス, Mikkusu) to his friends, seems to be the de facto leader of the Constructicons. Not exactly the sharpest tool in the shed, he spends his time overindulging in oil and whistling at passing cars with his buddy, Scrapper. Mix isn't a bad sort at heart, always willing to help a fellow 'bot, but his moral compass is apparently guided by whoever's got the best oil to offer. For all their seeming unsophistication, he and Scrapper still have an innate knack for construction-related activities. They can slap together a sturdy construct out of raw materials in seconds, and just by looking at a set of blueprints, even incomplete ones, they can tell just what's needed to get the job done. In addition to the abilities he shares with his partner, Mixmaster can also create any number of chemical concoctions in the churning belly of his mixing drum.
Appearance & Biography
Edit
Voice actor: Jeff Glen Bennett (English), Daiki Nakamura (Japanese)
While he has no Cybertronian vehicle mode, he still as an Earth vehicle mode in form of a cross between a cement truck and a bulldozer.
Attributes:
Personality
Edit
Relationships
Edit
Friends and Allies
Edit
Weapons and Abilities
Edit
Mixmaster's main ability is his mixing drum, located between in his chest and stomach in robot mode. He can use it to spray out concrete in either mode, which is extremely sticky and tough, and can hold most opponents. In a homage to his original Generation 1 incarnation, Mixmaster can also use his mixing drum to mix up different chemicals - for example, he can mix up a potent acid to melt down doors, or whip up a smokescreen to cover his escape from the New Detroit police.
Weaknesses
Edit
Appearances
Edit
Notes & Trivia
Edit