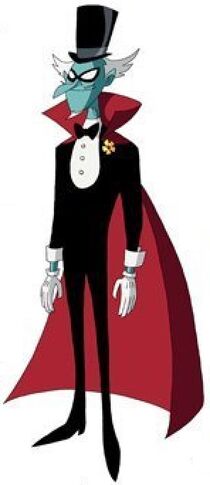 Mumbo Jumbo (マンボ・ジャンボ, Manbo Janbo) is a villain and an enemy of the Teen Titans and Team Prime. Also, the special enemy of Raven.
Appearance & Biography
Edit
Voice actor: Tom Kenny (English), Katsuya Shiga (Japanese)
Mumbo Jumbo's uniform consists of a normal magician's clothing. He wears a black turtleneck tuxedo with a white chest pad and a yellow flower pinned to his chest. He also wears a top hat, gloves and a mask. The mask he wears is identical to Robin's and Speedy's.
Attributes:
Personality
Edit
Billy is probably the most fun-loving of the H.I.V.E. Five. He likes to communicate with his clones, and they are his usual "playmates," and seemingly his best friends. Billy believes that the H.I.V.E. Five would be better of committing crimes while living a regular life instead of joining the Brotherhood because he thinks that taking over the world is redundant, and that the "old-timers" are boring. However, he ultimately joins with his teammates.
Relationships
Edit
Friends/Allies
Edit
Powers & Abilites
Edit
Mumbo Jumbo is a powerful magician, whose magic comes from the hat and the wand, but the magic he can produce—mainly due to the nature of his paraphernalia and his state of mind—is limited to stage magic, conjuring, and comedic effects. These include (but are not limited to) conjuring masses of flowers and cards to distract opponents, polymorphing people and objects at will, enlarging his glove to catch is opponent, conjuring door traps, animating lifeless objects, and making objects disappear into his hat. His magic is highly versatile and often catch the titans off guard, allowing him to overpower all of the five titans at one time.
Appearances
Edit
Notes & Trivia
Edit