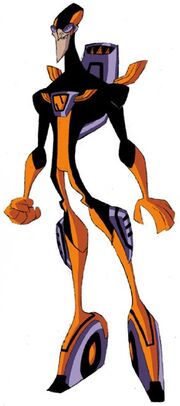 Nino Sexton (ニノ・セクストン, Nino Sekusuton), also known as the speedster Nanosec (ナノセック, Nanoseiku ), is one of the petty criminals littering Jump City. Originally nothing more than a small-time larcenist, a chance encounter with an experimental speed-enhancing suit developed by Sumdac Systems has turned him into the fastest thief in the Motor City.
Though initially his speed suit caused him to age fully into decrepitude, you can't keep a bad dude down and Nino Sexton is no exception. Back on the streets at speeds that turn heads, he's gained a second chance at crime, and perhaps even a first chance at... love.
Appearance & Biography
Edit
Voice actor: Brian Posehn (English), Takehito Koyasu (Japanese)
Personality
Edit
Relationships
Edit
Friends and Allies
Edit
Powers and Abilities
Edit
Nino Sexton was a petty crook, robbing banks and stealing bags of loot until he was arrested. After be became Nanosec after receiving and experimental superspeed suit from Sumdac Systems by Megatron, which increased his metabolism and reaction times a thousand fold. Unfortunately, the cost exerted by the suit became apparent - the increased speed that the suit gave also increased the rate at which Nanosec was aging.
Appearances
Edit
Notes & Trivia
Edit