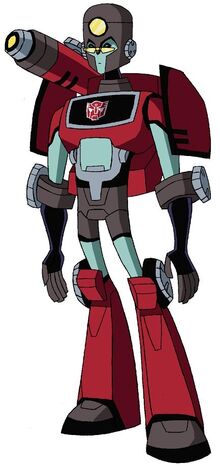 Perceptor (パーセプター, Pāseputā) is head of the Autobot Ministry of Science, and thus one of the finest minds on Cybertron. His high-caliber analytical skills help keep Autobots one step ahead of the exiled Decepticons in their technology. He frequently works with Wheeljack on special projects.
Appearance
Edit
Voice actor: PlainTalk (English), unknown speech synthesizer (Japanese)
His alternate modes is a Cybertronian Pick-Up and Mobile Laboratory.
Attributes:
Personality
Edit
Perceptor is wise, noble, just, and honourable.
Relationships
Edit
Friends/Allies
Edit
Weapons & Abilites
Edit
Millions of years ago, Perceptor participated in "Project: Omega", attempting to create a living weapon of mass destruction that would serve as the Autobots' last hope for defeating the Decepticons. The end result of the project was Omega Supreme. During the final stages of the project, Perceptor explained to field tech Ratchet that Omega had been designed with a simple processor and would require a mentor-bot to guide his actions. Having inherited the activation codes to Omega from the mind-wiped Arcee, Ratchet was thrust into this mentor position, and followed Perceptor's directions to bring Omega online.
Perceptor was given the data downloaded from the programming of the captured Decepticon Starscream and ordered by Ultra Magnus to initiate project Safeguard. He expressed concern regarding the risks of implanting Decepticon programming into an Autobot shell, and so was instructed by Ultra Magnus to find an expendable test-subject to offset the danger. Eventually, two suitable subjects landed in his lap, a pair of split protoforms who had been injured working in an energon refinery. While Wheeljack reinforced the two Autobots' structures to withstand the upgrade, Perceptor reverse-engineered the Decepticon flight codes and passed them to Red Alert for the data-merge. Though the resources of the Ministry of Science were sorely strained by this project, it eventually yielded Jetfire and Jetstorm.
During the twin Autobots' training, Perceptor put the downloaded data from Starscream to further use, upgrading the aging combat simulator they had at their disposal to represent Decepticon battle tactics more accurately. Unfortunately, Starscream's programming proved rather potent, and Perceptor lost control of the simulation. The twin Autobots were forced to fight their way out, finally allowing the scientist to terminate the simulation.
Appearances
Edit
Notes & Trivia
Edit