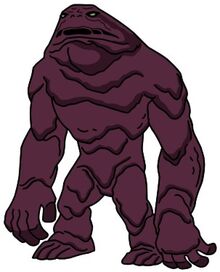 Otto Von Furth (オットー・フォン・ファース, Ottō Fon Fāsu), also known as, Plasmus (プラズムス, Purazumāsu) is a villainous monster and an enemy of the Teen Titans and Team Prime.
Appearance
Edit
Voice actor: Dee Bradley Baker (English), Not Known (Japanese)
Attributes:
Personality
Edit
Relationships
Edit
Friends and Allies
Edit
Powers and Abilities
Edit
Plasmus' primary power is superhuman strength. As a creature composed of ooze and with no solid skeletal structure, Plasmus is able to both withstand and regenerate from a vast amount of physical damage, and to execute limited shape-changing and limb-stretching. In combat, he attacks distant enemies either by elongating his limbs (or creating additional ones) to whip or grapple them, or he spits slime to bludgeon and entrap them. In his second incarnation, Plasmus also became capable of spitting acid. Plasmus is also purple and green.
Weaknesses
Edit
Plasmus is actually a symbiote. While his original form is human, he involuntarily transforms into a large purple ooze monster whenever he is awake. As a result, whenever he is in custody, he is put into a soundproof stasis tank to prevent him from transforming.
Appearances
Edit
Notes & Trivia
Edit