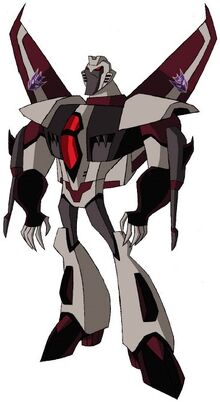 Ramjet (ラムジェット, Ramujetto) is a complete liar of the Seekers and an annoying to the Decepticons. He does have a problem with telling the truth. Every single thing he ever says is a complete lie. Just because everything he would say is a lie, this makes him an irredeemable bold-faced liar.
Appearance & Biography
Edit
Voice actor: Richard Epcar (English), Kappei Yamaguchi (Japanese)
As a Seeker, he has no Cybertronian-based veichle mode, but he has an Earth-based veichle mode of a Harrier Jet (based on Starscream's jet mode.)
Attributes:
Personality
Edit
Relationships
Edit
Friends/Allies
Edit
Weapons & Abilites
Edit
Like the other Seekers, he possess incredible speed and firepower, enough to put even Megatron off balance. However, the incomplete personalities of most of the clones mean that they are generally less effective than Starscream (if even more entertaining to watch).
The Liar's new helmet has a drill on top of it. Although he's not had a chance to use it yet, one wonders if perhaps the drill might be used for a lethal (and completely Ramjet inspired) headbutt attack.
Appearances
Edit
Notes & Trivia
Edit