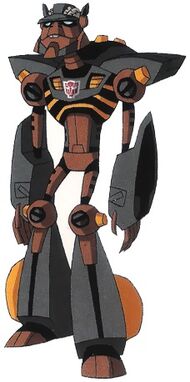 Rattletrap (ラトルトラップ, Ratorutorappu) is that one 'bot who will tell you anything if you "persuade" him enough. He's kind of a dirty rat when you think about it. He is apparently in a relationship with Botanica.
Appearance
Edit
Voice actor: Tom Kenny (English), Kappei Yamaguchi (Japanese)
Attributes:
Personality
Edit
Relationships
Edit
Friends/Allies
Edit
Weapons & Abilites
Edit
Rattletrap and his buddies Ransack and Crumplezone apparently gave info on Omega Supreme's activation codes to Shockwave. They was later interrogated by Ratchet, Cyborg and Captain Fanzone, who threatened to slime them one by one if they didn't give them access to a high-security infirmary on Cybertron. This threat proved effective, but the access key card Rattletrap provided turned out not to work. Ultimately it didn't matter, as Jazz had been tailing them the whole time, and let them in.
Appearances
Edit
Notes & Trivia
Edit