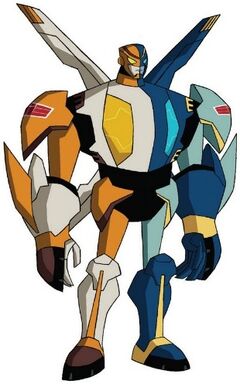 Safeguard (セーフガード, Sēfugādo), the "gestalt powerlink" form of Jetfire and Jetstorm, was an unexpected result when flight schematics stolen from Starscream were infused into them!
Though Safeguard combines the twins' bodies to further enhance their already-impressive combat capabilities, it does not appear to be a melding of their minds. Instead, both twins work in complete synchronization in this form. Unfortunately, both twins are cocky, brash showoffs who are only partially in control over their own powers... which makes Safeguard a potentially very dangerous robot to everyone around him.
Safeguard has both a robot mode and a super jet mode.
Safeguard is the combined form of two Elite Guard Autobots:
Appearance & Biography
Edit
Voice actor: Tom Kenny and Phil LaMarr (English), Wataru Takagi and Kappei Yamaguchi (Japanese)
Created using the most advanced techniques known to autobot science, Jetstorm and Jetfire were cloned from tech recovered from Starscream. Brought online in a secret laboratory deep beneath Cybertron, they are the first Autobots created specifically to battle the Decepticons. Though they are young, they are extremely intelligent, working their way through the Elite Guard boot camp in record time. Together they are potentially the most powerful Autobots of all time, especially when they combine into their Safeguard form.
Even in their combined form, Safeguard has the veichle mode of his own, He transforms in to a Cybertronian X-Wing fighter jet.
Attributes:
Edit
The only known Autobots that can fly.
Youngest Elite Guard members of all time.
The first robots with the ability to combine.
Personality
Edit
Relationships
Edit
Friends/Allies
Edit
Weapons & Abilites
Edit
The merged form of Jetfire and Jetstorm, Safeguard combines the powers of both Autobots in one form. He is able to utilize both Jetfire's flamethrower/fire abilities and Jetstorm's turbines/cold powers, blasting away with a huge column of fire.
Appearances
Edit
Notes & Trivia
Edit