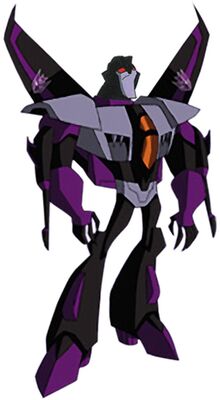 Skywarp (スカイワープ, Sukaiwāpu), is a Decepticon seeker with a cowardly side. He doesn't want to fight. He bruises easily! He has a doctor's appointment! Do you have any idea just how dangerous fighting is?! Sure, he's as fast, as strong and as well armed as any other fellow Sekers, but do you realise how many different micro-organisms can get in through one crack in his exo-structure? Imagine the rush from a battle wound. No, no...Skywarp's talents are put to much better use guarding the rear...or the middle, really, since they can sneak up on you from the rear.
Appearance & Biography
Edit
Voice actor: Crispin Freeman (English), Hiroshi Iwasaki (Japanese)
Skywarp wouldnt call himself a coward. He'd call himself smart. So what if he runs away from combat? Fighting is dangerous! All those missiles and lasers could really hurt someone! As a Seeker under the command of Starscream, he's got all the power in and skill of the leader of the Decepticon air forces, but none of the courage or ambition. He could easily be one of the most dangerous Decepticons of all time, but since he screams and runs away the second a shot is fired, he's mostly just a joke.
As a Seeker, he has no Cybertronian-based veichle mode, but he has an Earth-based veichle mode of a Harrier Jet (based on Starscream's jet mode.)
Attributes:
Gets shot in the back more than any other Decepticon
Uses his teleportation ability to run away faster
Even just seeing a picture of Megatron gives him nightmares
Personality
Edit
Relationships
Edit
Friends/Allies
Edit
Weapons & Abilites
Edit
Like the other Seekers, he possess incredible speed and firepower, enough to put even Megatron off balance. However, having the incomplete personalities mean that they are generally less effective than Starscream (if even more entertaining to watch).
Appearances
Edit
Notes & Trivia
Edit