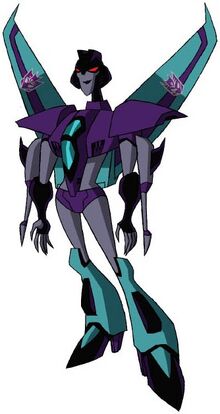 Slipstream (スリップストリーム, Surippusutorīmu), is a female Seeker that raises the most questions. She possesses considerable strategic thinking, a biting sense of humor, and a short temper. She maybe a Seeker under Starscream's command... though which aspect that is, he's better off not talking or asking (or so she says).
Practically everything she ever says to the original Starscream is an insult of some form. Really makes you wonder about Starscream, doesn't it?
Appearance
Edit
Voice actor: Gina Torres (English), Atsuko Tanaka (Japanese)
As a Seeker, she has no Cybertronian-based veichle mode, but she has an Earth-based veichle mode of a Harrier Jet (based on Starscream's jet mode.)
Attributes:
Personality
Edit
Relationships
Edit
Friends/Allies
Edit
Weapons & Abilites
Edit
Like the other Seekers, she possess incredible speed and firepower, enough to put even Megatron off balance. Unlike the other Seekers, though, Slipstream does not seem to suffer from being only a partial Seeker herself - in fact, with her keen tactical mind picking out the weaknesses of Omega Supreme and a more level head than Starscream himself on her shoulders, she just might be a more dangerous opponent than Starscream himself!
Appearances
Edit
Notes & Trivia
Edit