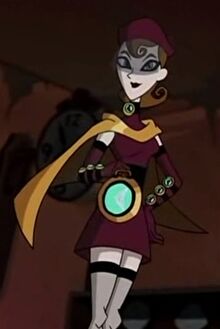 Samantha Lomow (サマンサ・ロモー, Samansa Romō), also known as Slo-Mo (スロー・モー, Surō Mō) have been working a nine-to-five job as a wage slave sure sucks. It's a drag, baby. A downer. A bummer. Yesterday's scene. Which means that when you discover a fragment of an ancient life-giving alien artifact, it's time to clock out for the last time and launch a career as a super-villain! No? Well, she seems to think so.
This dishy dame's timepiece has the power to slow down machines, even stop 'em cold. In their tracks. Company halt. Fullstop. Do not pass go. It even works on those annoying Teen Titans and Autobots!
Amusingly enough, she seems to have a mutual attraction with the speedster Nanosec.
Appearance & Biography
Edit
Voice actor: Tara Strong (English), Takako Honda (Japanese)
Personality
Edit
Relationships
Edit
Friends and Allies
Edit
Powers and Abilities
Edit
Slo-Mo talks in a 1950's gangster style brogue, and has her headquarters in the clock factory where she once worked, complete with clock themed lair. She is a capable leader and a smooth talker. Nanosec is extremely attracted to her and she returns the affection. Slo-Mo's main abilities though are all derived from her timepiece, which can shoot out a beam that can temporarily immobilize any machines. It also, apparently, is capable of undoing the premature aging suffered by Nanosec as a result of using his super speed suit.
Appearances
Edit
Notes & Trivia
Edit