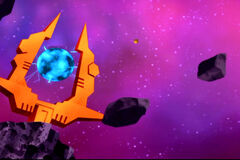 Space Bridge (スペースブリッジ, Supēsu Burijji) is a special kind of Transwarp technology that is created Autobot ancestors as a means of moving Transformers from one planet to another or traveling around the galaxy almost instantaneously, without the need for a spacecraft.
Biography
Edit
A Space Bridge is an advancable version of Cybertron's Ground Bridge technology. It takes the form of a large, forked structure and works by generating a sphere of energy between the two prongs.
The first Space Bridge was desinged by original Wheeljack and this gave the Autobots a major strategic advantage over the Decepticons: thanks to the bridges, the Decepticon were in difficult siege during on. At the near end of the Great War, the original Optimus Prime sended the AllSpark into one of te Space Bridges to keep it out of the hands of any Transformer hands.
Optimus Prime and his small band of Autobots were put in charge of repairing space bridges. Megatron planned to use some schematics to build his own, allowing him to transwarp to Cybertron and strike it without warning. He kidnapped Isaac Sumdac to design it and used the Constructicons to build it, but it wasn't enough. With some additional help he completed it, but as often is the case with Decepticon plans, it didn't end well.
During the Decepticon Uprisings, the Decepticons went after every space bridge on the periphery in a simultaneous assault. Team Chaar were the first squad to capture a bridge, but couldn't arrive at the space bridge nexus on Cybertron as Shockwave, who held the access codes at the nexus, was waiting for Megatron's signal to begin the attack. The network was later shut down by the Cybertron Elite Guard.
Blackarachnia used components from a transwarp generator in order to create a teleportation pod which she used to transform Wasp into a Technorganic being; however, after its use, the chamber exploded. Bulkhead along with Isaac Sumdac later attempted to work together in making a space bridge on Earth for the Autobots but faced many arguments on how to calibrate the equipment. Luckily, Sari Sumdac managed to activate the system which was later used to transport Optimus Prime onto the Elite Guard flagship which had been taken over by the former Decepticon prisoners.