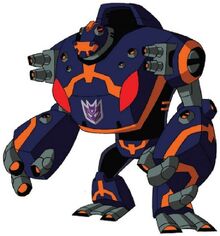 Spittor (スピッター, Supittā) is a disgusting creature, even to other Decepticons. Not only is he extremely lazy and a shameless liar, but constantly slobbers his oozing slime and spreads his foul stench everywhere, making him both physically and mentally repulsive. His alternate mode is a frog-like bipedal all-terrain walker. In this form, he lashes out tongue-like cables called "Legion Tentacles" that grab his victims, pulling them into his gaping maw. Once swallowed, his victims are coated in combustible slime and spat out, making them living (and stinking) bombs.
Appearance & Biography
Edit
Voice actor: Tom Kenny (English), Hideo Ishikawa (Japanese)
He has an alternate mode of a Cybertronian walker.
Attributes:
Personality
Edit
Relationships
Edit
Friends/Allies
Edit
Weapons & Abilites
Edit
He transforms into a Cybertronian walker, that uses tongue-like cables to ensnare and "swallow" objects. The objects are coated in an explosive goo and regurgitated as a weapon.
Part of Team Chaar under the command of Strika, Spittor attacked space bridge 687-030. He captured Red Alert with his cables, and promptly spat her at Brawn and Ironhide, the combustible slime he coated her with taking out all three. He tried to capture Rodimus Prime as well, but the Autobot leapt and fired two arrows into his tongue-cables, pinning Spittor in-place, requiring Cyclonus and Oil Slick's help to get free.
He and the rest of the team waited at the captured space bridge, awaiting Megatron's orders. As they were getting ready to take on the Cybertron Elite Guard, they finally got their orders... to withdraw, with Megatron promising "grave consequences" to any who didn't obey his orders. Reluctantly, the team fled.
Appearances
Edit
Notes & Trivia
Edit