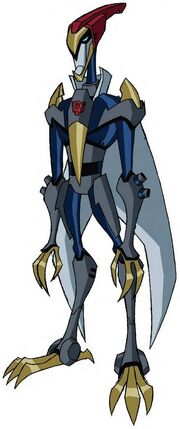 Swoop (スワープ, Suwāpu) is a Pteranodon Dinobot. He prefers his nice, quiet island to the mainland, but doesn't say no to crossing over for the odd battle. Not only is it fun to see humans scatter at the sight of him, bashing Decepticons with his flaming flail is more fun than bashing trees.
Appearance & Biography
Edit
Voice actor: Brian George (English), Nobuo Tobita (Japanese)
Like the other Dinobots, Swoop prefers to be left alone on Dinobot Island, where he can soar and dive without worrying about the Decepticons taking pot shots at his wings. When he does have to return to the mainland to battle the Decepticons, however, he enjoys the way people scatter when they see his shadow. That, and smashing trees with his ball and chain doesn't compare to the satisfying crunch it makes when it bashes into Decepticon armor.
While he has no Cybertronian vehicle mode, he does have the beast mode of a Pteranodon.
Attributes:
Sonic scream causes shorts out audio sensors.
Ball & chain emits heat capable of melting other robots.
Wings collect solar energy to power weapons.
Personality
Edit
Relationships
Edit
Friends and Allies
Edit
Weapons and Abilites
Edit
Swoop, like the other Dinobots, can shoot flames out of his mouth in dino mode. In robot mode, he carries a flail, the ball of which can burst into flames.
Appearances
Edit
Notes & Trivia
Edit