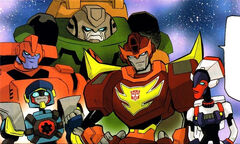 Team Athenia is a squad of Autobots stationed on the galactic rim.
Its members are:
Team Athenia battled Team Chaar, composed of Strika, Spittor, Cyclonus, Blackout, and Oil Slick for control of space bridge 687-030, but was defeated.
Appearances
Edit
Notes & Trivia
Edit
Team Athenia is named after the planet Athenia from Generation 1 series.