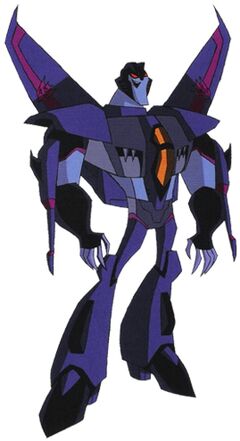 Thundercracker (サンダークラッカー, Sandākurakkā), is an Egomaniac, and completely awesome. You pin-headed, addle-pated morons haven't even got the tiniest inkling of what a grand and glorious robot this Starscream clone is. He doesn't even deserve to be called a lowly clone because that's how overly powerful he is compared to everyone else, even the idiot Megatron. When it comes to Decepticons who are the best of everything, nobody can top this clone, and it comes as no surprise that you would doubt such a simple fact. His brilliance does tend to blind lesser beings... that is to say, everyone else ever.
Even that inferior template, Starscream, cannot comprehend his majesty, mistaking his obvious superiority for simply being a pain in the crankcase.
Appearance
Edit
Voice actor: Graham McTavish (English), Hiroaki Miura (Japanese)
This ego-crazy Decepticon is so full of himself; it's tough for him to pay attention to anything else. He sometimes gets distracted by the beautiful shape of his own shadow on the clouds beneath him, or his reflection in the windows of buildings as he flies past. That doesn't make him any less dangerous to the Autobots he attacks, though!
As a Seeker, he has no Cybertronian-based veichle mode, but he has an Earth-based veichle mode of a Harrier Jet (based on Starscream's jet mode.)
Attributes:
Personality
Edit
Relationships
Edit
Friends/Allies
Edit
Weapons & Abilites
Edit
Like the other Seekers, he possess incredible speed and firepower, enough to put even Megatron off balance. However, the incomplete personalities of most of the clones mean that they are generally less effective than Starscream (if even more entertaining to watch).
Appearances
Edit
Notes & Trivia
Edit