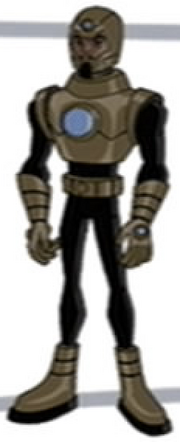 Emil LaSalle (エミル・ラサール, Emiru Rasāru), also known as Warp (ワープ, Wāpu), is a villain and an enemy of the Teen Titans and Team Prime, Starfire in particular.
Appearance & Biography
Edit
Voice actor: Xander Berkeley (English), Kunihiko Yasui (Japanese)
Personality
Edit
Relationships
Edit
Friends and Allies
Edit
Powers and Abilities
Edit
Warp's powers derive from his armor suit which houses an arsenal of advanced weapons, such as:
a force field generator
twin shoulder-mounted laser blasters
forehead mounted laser blaster
forearm-mounted stasis/shocker units shaped like hour-glasses
glove-mounted air freeze units (which encase their victims in a sheath of super-cooled moisture, entrapping them in ice)
a power drainer
and at least one computer-controlled explosive disc.
The armor itself seems to be able to deflect Starfire's starbolts.
Self Defense for he was able to keep his hold against the future Optimus Prime and Nightwing (Future Robin in his mid 30's)
Appearances
Edit
Notes & Trivia
Edit
A possible explanation for Warp's sudden re-aging is: when Starfire returned to the present with the stolen clock, she altered the timeline, making it so that him coming back, stealing it, and the eventual conflict and the suit being damaged, never happened.